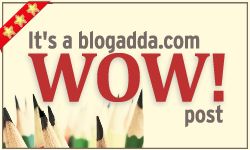 Image courtesy of kangshutters / FreeDigitalPhotos.net
With trembling hands she touched me, eyes moist with tears of joy.
Lips quivering, she cuddled me, I knew I was secure.
She kissed my fingers, then my legs, my forehead kissed she as though to bless.
I looked at her with startled eyes, then knew I should offer her a smile.
I gurgled at her in delight, "Mom I love you."
Image courtesy of phanlop88 / FreeDigitalPhotos.net


Do take a tour of my blog

Fabric of Life

too,
to get a feel of some of the books doing the rounds , poetry, fiction, etc.
And Of course, don't forget to leave your footprints in the form of comments and suggestions. Your words mean a lot to me.