Looking at Ram I said, "Looks like
you've
just got out of bed. Why don't you have a shave?" He laughed me off and got ready to go.
"You are attending the interview,
aren't
you?" I asked.
"Then, you are sure to be selected," I remarked sarcastically. The stubble on his face was irritating. I hate that unclean stubble. I always refer to it as weeds. I have often heard men say, it's stylish. "Stylish my foot," I muttered aloud.
"Nothing," I said. Just then my little girl came running in.
"Arey! Uncle what is this? Looks like
you've
not had a bath since two days," she said and giggled.
Shreya too, cannot stand the stubble She makes it a point that my hubby i.e. her dad does not leave home clean shaven. I still remember the day we had planned to go to her school for the 'open forum.' Hubby decided to skip the routine. But Shreya would not have it. She declared she could not accompany him anywhere leave alone school, with that stubble. She had her way. Stubble shaven, we all went together.
Ram gave Shreya a menacing look and left.
On return, one look at him and I knew he had failed to make it. He went directly to his room and shut the door only to emerge after half an hour clean shaven. The stubble had undone his chances. That day Ram learnt a lesson the hard way.
Lesson learnt –
Looks do matter when you go for an interview. If you look untidy and haggard, the interviewer is put off by the very sight of you. You yourself undo your chances.
Office etiquette demands that one look clean and presentable. The stubble imparts an unkempt look.
(Inviting you to write a post in 200-300 words for P.A.S.S. and don't forget to mention me at the end of the post just as I have mentioned Anita
.)
For more details just check out here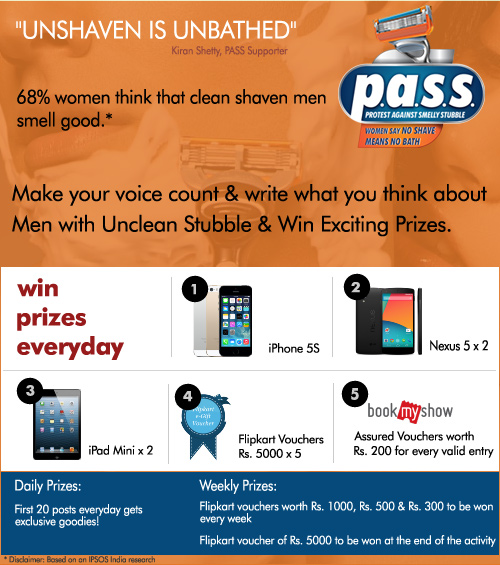 Thank you for stopping by. Look forward to your comments and suggestions.