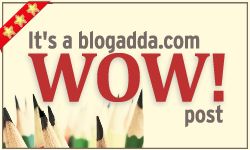 Vidya opened the door to the incessant ring of the door bell. "Who can it be?" she wondered. Raghu was out of station and would not be back till the next evening. Tying her hair into a knot and adjusting the 'pallu' of her sari, she moved to open the door only to pull back her hand from the handle. The Surabhi murder case was still fresh in her mind. It was only the other day the incident was splashed all over the newspapers. The media had run reels and reels for hours on the same. Surabhi an unsuspecting housewife of just 25 years had opened her doors to strangers in broad daylight; little knowing that she was inviting her end.
Vidya opened the window instead and looked out. There were two young men in military uniform waiting at the doorsteps. They introduced themselves as Capt. Bikram and Capt. Shyam Sundar . They said they were Raghu's colleagues. Raghu spoke often about the two. She opened the doors and welcomed them in.
Capt. Bikram – "Ma'am we've come here to collect the file Raghu Sir has left for us. There is a command meeting today and the same is required urgently."
Uma remembered that Raghu had been working overnight on a file. He had said it was important. But before parting with the same she had to be sure it was the one they wanted. So she took them to Raghu's study and showed them the file. They took it and got ready to leave. Uma insisted they have a cup of coffee. So back they went to the living room while Uma headed for the kitchen.
The maid had already left and Uma was all alone. Kettle on stove, she hummed as she waited for the milk to boil. Suddenly she became aware of a peculiar fragrance. She wondered from where it could be. Coffee ready, she headed for the living room. The scent of the perfume was now more strong and pronounced. Suddenly she felt dizzy. The tray shook in her hand. She steadied herself and moved forward. Six more steps and there she went crashing to the ground.
Uma woke up to the strong smell of medicines and chatter all around. Her eyes felt heavy and drugged. It was with great effort that she managed to open them. She found herself surrounded by anxious eyes and nurses in white starched uniform. Her head was aching and throat was parched. Someone helped her sit up and have water. Later she came to know that Mrs. Suja her next door neighbor had found her lying unconscious in the living room amidst broken crockery and spilled coffee.
Mrs. Suja had come to invite Uma for the 'Satyanarayana pooja' to be conducted in her house the next week. She rang the bell but there was no response. She rang it again and again. The door was slightly ajar. She found it strange that no one should respond. So she gently pushed the door and entered the house only to find Uma lying unconscious on the ground. She alerted the police immediately. Uma was brought to the hospital.
Feeling better Uma narrated the incident to the police. Capt. Bikram and Capt. Shyam Sundar were summoned to the hospital. Uma got the shock of her life when she saw them. The two were not the two who had approached her in the morning. Uma realized that she had been fooled. But then who were they and what about the file she had handed over to them? More shock was in wait for her.
The intruders had vanished with the file. Further investigations revealed that Raghu's computer and table lock had been tampered with. CDs kept in the drawer were missing. "Oh! What an idiot I am," thought Uma. "How could I fall a prey to their designs."
The next few hours saw Uma lie on a bed of thorns (literally). She worried what Raghu's reaction would be when he came to know of the missing file and CDs. Uma worried whether Raghu would get into trouble because of her.
Suddenly there was a flutter. A nurse came and told Uma that Raghu had arrived. Uma's eyes welled up with tears on seeing Raghu at the door bouquet in hand. She closed her eyes unable to face the 'scowl' on Raghu's face.
"Relax." That was Raghu placing a hand over her shoulder. She slowly opened her eyes, tears trickling down her cheeks. Raghu wiped the tears. She parted her lips to seek forgiveness. He smiled and said, "Relax. That file you gave them contains nothing but my income tax calculation papers. They can be reconstructed. Don't worry."
"What about those CDs. Will you be in trouble because of them?"
"No. The one they came for is safe with me. I am an army man well aware of the dangers lurking around me. So I saw to it that the CD was kept away safe before I left. The CDs they took away don't contain anything of importance."
A sigh of relief escaped Uma's lips.
"Now, my dear wife stop worrying or else those lines on your forehead I fear, may become permanent. And by the way, I could do with a smile."
The dark clouds gave way to sunshine.
This time we had to write a post including the words -'idiot,' 'perfume,' and 'CD'